Follow @PopularENT for all Tara N4 updates! Tara N4 US album cover artwork contest happening now. Submit your ideas now! Winner meets TN4!!
— Damuer H. Leffridge (@Damuer) January 15, 2014
The COUNTDOWN has begun! T-ara N4 US Album "Miss Understood" feat. Chris Brown, Wiz Khalifa, Ray J and more! STAY TUNED!!! #missunderstood
— Damuer H. Leffridge (@Damuer) January 15, 2014
This is going to be one bubbling hot mess.
So, erm, some guy named Damuer H. Leffridge who is a managing partner at Popular Entertainment Group (no, seriously that's the name of the company) and represents T-ara N4, 5Dolls and SPEED( so I'm pretty sure this all legit), just dropped the bomb about TN4 making an official US debut.
From the tweets that I posted above it's pretty obvious that, that information isn't the worth of it. T-ara will be collaborating with Chris Brown, Ray J, Wiz Khalifa and many other ratchet acts. The name of the album is also equally as ratchet as it has been entitled "Miss Understood".
This gif says it all.
I don't know what the fuck CCM's CEO is thinking tbh because this debut is going to be one mother fucking travesty. T-ara N4 already looked ghetto enough when they flew over to America to answer Chris Brown's "love call" (coughs). I mean, do I really need to remind you of this?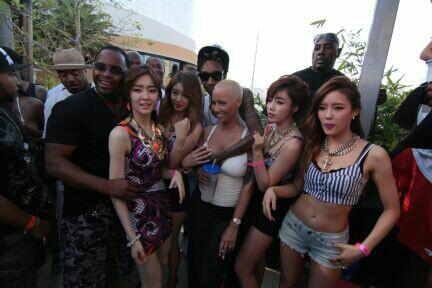 #Ratchet
Now, they're going to emphasise this ruffian theme that they're going with, by having a collab with several known hoodrats.
Let me state all the reasons why these guys
really
are famous:
Chris Brown: beating up Rihanna (and others).
Ray J: singing a song that brags about taking Kim K's virginity, and who is less popular than his sex tape.
Wiz Khalifa: going out with some model called Amber Rose and tweeting about his sexual fantasies with her in the most vivid manner ever.
I'm honestly very intrigued to hear what T-ara N4's got to offer with this American debut considering that none of them are even remotely fluent in the English language, so unless they are planning to do "rap" in Korean with Chris Brown whining all over a song. I'm hoping they shove Dani in the sub-unit because I don't see how this is going to work.
I'm also curious to know who is going to be taking creative control of the album. After all, it was Chris that brought TN4 to America - purely for the music, of course due to feeling a "special connection" with the song (ahem). Obviously, he's renowned for his musical talent and originality, therefore he would probably want to contribute to the compositional aspect to the song. Of course, we can't forget Ray J - a lyrical genius - who will probably have something fabulous in store for the girls (I hit it, I hit it, I hi-i-i-it first~).
Oh! And if that wasn't enough, TN4 will also going to be touring in the U.S!
We need translators for our Tara N4 US Tour. Submit your info to me at damuer@popularentertainment.co Serious inquiries only please.
— Damuer H. Leffridge (@Damuer) January 15, 2014
Chuck, I think now is your best chance to get to pee in Eunjung or Jiyeon's buttholes.