SM Entertainment decided to join the trend of adding new members to an already established group. This move shocked fans as it was completely unexpected. An official announcement has yet to be released, with only pictures of the new 6-membered group appearing after they attended a sponsored event.
f(x)
, who hasn't done shit since summer of 2012, felt that to boost popularity, they would try adding a new member for "
fans to love and accept
".
Oh wait...
I stand corrected.
That is
SHINee
's
Key
. Whoops. My mistake.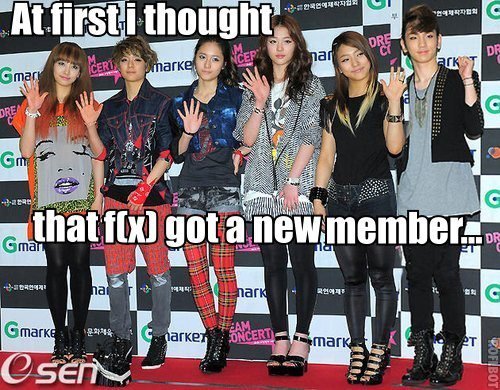 Glad I wasn't the only one.
Well. I guess the world doesn't need two males in f(x) anyways. If another boy was added,
Amber
would be out of a job in f(x).
See, this is why companies should not let androgynous members of groups take photos with other idol groups. It confuses everyone into thinking they have a new member who just appears slightly masculine/feminine.
I am looking at you,
Ren
of
NU'EST
. Oh Ren. Sweet, beautiful Ren. You don't belong in
Hello Venus
. Even if you are as pretty as them.
Do any of you readers know of any photos of other photobombers that look like they belong? Post them in the comment section below.
~*~*~
Announcement
: Hello
FISH
ies. I know I have not posted a
Stupid Things Fangirls Utter
or
Question of the Week
or
Song of the Day ~ Stuck in my Head
in a while. I am sorry. I have many pictures/questions lined up (of my own and that were submitted), but just have not had the time to sift through and piece them together in the order they were sent in for posting (hence the reason why many of you have not received emails from me assuring you I have seen them - and when they will be made into articles). I will be pretty busy for the next two weeks with exams, labs, and volunteer work. But by mid-March I should get my shit together and have those weekly posts back up again. Thank you for your submissions, patience, and support. Love you all. <3