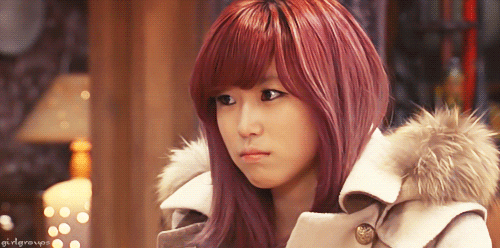 Enjoy this gif of Hyosung while you can because the rest of this post has some pretty nasty pictures.
Blackface is a hot topic in k-pop for both interesting and vapid reasons, and today we're going to cover what blackface is and isn't within the context of K-pop (and pretty much everywhere.)
WARNING: this post contains some frightening images, I will try to make it up to you towards the end.
Now before any SJW's accuse me of being a "jar of mayonnaise" *shudders at that idiotic insult* that doesn't know what the fuck she's talking about, I'd like to say this: that's a pretty racist thing to say. Not only am a black girl from Chicago for fucks sake but you automatically assume that just because a person is White means they can't be knowledgeable in other cultures and the history of other cultures which I have to say, is pretty fucking racist. And you're also assuming that people that come from a certain culture automatically know everything about that culture and it's history which is ridiculous. Sure trying to tell a whole group of people how to feel about something is dumb as fuck when you don't come from that group of people, but aren't you SJW's technically doing the same when you bombard people with your views and tear them down when they don't agree with you? Talk about being a hypocrite. (Side not: why do SJW's refer to White people as "jars of mayonnaise?" Why did they do that? That's so fucking bizzare, sure mayo is white but there are so many other options of white food that are way more clever to use than fucking mayonnaise. If anybody has the answers to this please let me know. I digress.)
Moving on...
[UPDATE] My article had a major flaw in it: I forgot to include the definition of blackface!
There is the definition right in your face. If this is misinformation contact the people who write the dictionary and try and tell them how to do their job.

Way back when racism was acceptable in American media (okay more overt racism) there was this thing called "blackface." What that did was that White actors would often times paint their faces black in a way that was obviously intended to be racist and offensive as well as act in a way to make Black people seem uneducated, lazy, and just about any other racial stereotype you can think of at that time. This was of course, pretty offensive and it is for the most part over with however it has left scars so deep that people will see anyone who has darkened their skin for a performance is considered a hideous blackface-wearing racist without looking into the deeper context of what the performance is conveying.
For example: if someone is playing a role it is in their best interest (especially now a days) to be as accurate as they can with that role. People lose and gain weight all the time to fit the characters they play as accurately as possible, so therefore sometimes you have to darken your skin a bit, if not then it becomes "whitewashing." Sometimes applying black paint to face is for more artistic purposes (you'll see later in the post.) If a person is simply playing a simple role that has no racist ties what-so-ever then getting offended over them trying portray a role accurately isn't necessary. There is a pretty big difference between portraying a character and being purposely racist and/or offensive, and lately a lot of people have been getting the two mixed up.
The rest of this post will be doing simple comparissions between actual blackface and wrongly accused blackface specifically in K-Pop. Get your eyes ready
ACTUAL BLACKFACE:
How fucking scary is that? I don't know about you, but I don't know a single Black person that even remotely looks like that. This was clearly drawn on the be just about as nasty as possible.
NOT BLACKFACE:
This is a picture of After School's/Orange Caramel's Raina. She did a play called for "I Love You Tonj" which is based off of a Korean documentary called "Don't Cry For Me, Sudan." She along with a lot of people had to darken their skin a bit because they were playing Africans and when playing any role you want to be as accurate as possible otherwise that can be taken as offensive to the role you are trying to play. People consider the above picture to be blackface, but Raina only looks like, five shades darker. In fact she looks like she just went out into the sun for a few ours. That's actually about my complexion right now since it's the winter and there is zero sun in Chicago. The most offensive thing about this is that according to the roll her skin should actually be darker. Simply darkening your skin is not blackface. If that were the case, then anybody who tans or applied bronzer to look tan would be considered blackface.
ACTUAL BLACKFACE:
Here's a picture of the Bubble Sisters which were some flop nugu k-pop girl group a few years back that did some performance like this on some show. Everything from the awful makeup to the awful hairstyles is pretty much old school style blackface.
NOT BLACKFACE:
Here's a picture of 4Minute's Hyuna back during her days of bubble popping and when she didn't look carved from clay. A bit of a more unknown issue but I remember reading that her getting her skin tanned that dark and and shaking her butt was her mimicking Beyonce and comparing it to her making fun of black culture. Little do they know that practically almost all female k-pop soloist are in one way or another always getting inspiration and becoming different versions of Madonna or Beyonce, case in point Hyori, buts she's everyone's "kween." it all worked out for Hyuna in the end, since everyone calls her "kween" these days anyway so she must have done something right.
ACTUAL BLACKFACE:
Here's an actor back in the day wearing traditional blackface. In the name of Suho that is pretty fucking terrifying.
NOT BLACKFACE:
Here's G-Dragon from his "Coup D'tat" music video. If you've been following GD (most people on here don't but still) you'll know that mv is chocked full of symbolism from his career over the years along with some evolution symbolism. For those of you who don't know, his first album had that creepy 3D white skull/face on it for it's special edition. And him removing that creepy pure white face to reveal a sinister all black face with no features but his eyes being enhanced is hinting more shade at the K-pop industry than anything else. (You could also interpret this as anything really, but that's the most obvious interpretation, but on the surface this is nowhere near to being actual blackface.)

Non-K-Pop Example for Reference:
ACTUAL BLACKFACE:
Horrifying. Looks like something Stephen King would try to make a threatening villain out of in one of his novels. The lips and hair are especially ridiculous here. Again, I don't know a single Black person that does or ever did look like that.
NOT BLACKFACE:
The picture above is of Julianne Hough (right) in a costume as Crazy Eyes (left) from Orange is the New Black for Halloween. While this isn't anywhere near blackface it's just a pretty shitty costume of Crazy Eyes in general. She has the skin color, hair style, and get-up down but she could have at least sprayed some black dye in her hair and put some brown contacts on. Commit to your Halloween costume you lazy fuck.
This is a picture of Hoshi from Seventeen. No real relation to anything in this post other than the fact that I think he's adorable and hot and I need something in this post that actually pleases my eyes.
So there, I hope I cleared up some stuff about this subject and I hope I helped at least one person understand what blackface really is and isn't. If you're wondering why I didn't include Truedy is because she did something outside of blackface (lied about her heritage) that would require a whole different post.
If you made it this far and need to clean your eyes out here are your treats: